We had a noon dismissal on Friday due to conferences, which I finished the day prior. Rather than go home and turn my teacher brain off, I decided to get caught up on work while the building was relatively quiet. I have felt like my teacher life had been put in a blender and pulverized into a fine puree recently. Gone were the days of having planning periods...within the last 2 weeks, I have added a Sound Breakers program (developmental speech tutoring), a weekly kindergarten reading enrichment group that the principal lovingly asked me to start, and 7th grade ELA for two wonderful girls for reasons I will not discuss. Oh yeah, picking up tutoring a second grader (former kindergarten student) in English tomorrow. Holy change to one's schedule, Batman. Lacking a cape or super powers, I trudged through the best I could. Friday was the day I got my teacher life back on track. I am the binder queen...seriously. Some great, fabulously incredible person donated boxes of binders last year, and I grabbed all I could carry. And, I have filled the last few recently.
What I realized Friday and today, as I sit down to finish up, is that I have yet to open a teacher's edition for anything. I have found all that I need on Pinterest, blogs, or TPT. And, they are great lessons. I get bored very easily. I am constantly seeking new ideas...and here are a few I have found...
First off...I doubt any of you that have found my little corner of the blogger-sphere are speech teachers (neither am I), but this is a great app if you have a child with speech issues that have not corrected themselves by the correct developmental age (mostly kiddos that do not add the /r/ to the end of their words...hello, Elmer Fudd). It would be a great app to pass onto parents...
My Sound Breaker kiddos are making great strides! I dreaded this with every ounce of my being saw this as an incredible opportunity to learn something new, and it has been a great experience. It is wonderful to see progress that will clearly benefit these children and help their reading take off!
Next up? Kindergarten reading enrichment...right up my alley after 6 years in kindergarten. And these kiddos are amazing readers...reading up to 2 grade levels above. The thought of throwing the same old, same old at them made my belly ache in its deepest crevices so mentor texts it is. I do have them read the leveled reader. With my target skill of character in hand, enter...
Pete the Cat
, a personal favorite!
If you haven't read this book or seen this video of the author's read aloud complete with song, do yourself a favor and check it out. Kids of all ages LOVE it. But, be prepared...you will be singing this song in your sleep.
So, after that bit of fabulousness, we will proceed to discuss Pete's character with this little bit of loveliness
from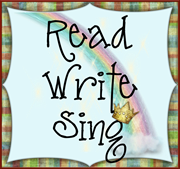 And will fill out this awesome page for a group book
from Pickerington Public Library (another great Pinterest find).
This is proving to be long....I am closing for now as I have much to do. This is my first time embedding pictures and a video! It was a challenge for myself, and I did it!!!!
Happy St. Patrick's Day from this Irish girl...